VIEW LIVE OFFERS
Save £20 on Return Flight Bookings at TUI
Exclusive
£50 Retail Card with Upfront Bookings Over £1000 at TUI
Bookings with TUI now get £50 gift card, start booking that dream holiday today.
270 used today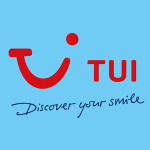 Never miss out on exclusive savings from vouchercloud
Discover up to 11% Online Booking Discount at TUI
Make a booking with TUI and start saving money today.
3192 used today
Get £150 Off All River Cruise Bookings at TUI
Grab this fantastic deal and book the perfect river cruise holiday for you with TUI!
96 used today
Save £150 on Marella Cruises at TUI
It is cruise time so let the adventure begin today with this offer at TUI.
126 used today
Save £300 Per Booking on Universal Orlando Holidays at TUI
Its time to get magical! Book a Universal Orlando holiday with TUI today and save money whilst doing it.
90 used today
Save £100 Per Booking on Selected Holidays with your Unique Code at TUI
Book with TUI now and start saving on plenty of selected holidays.
1689 used today
Free Superior Cabin Upgrade on 2020 River Cruises at TUI
Select a cabin upgrade when making a booking with TUI today. Go on, treat yourself!
Online
From £154pp For Holidays Between Nov 2019-April 2020 at TUI
Book your holiday in advance and get a great deal whilst making big savings today!
168 used today
1000s of Free Kids Places on Holidays at TUI
Bring the kids for free when booking your dream holiday with TUI today!
105 used this week
Save up to £450 on Family Life Holiday Deals at TUI
Looking for your perfect holiday? Book with TUI and start saving for something you can look forward to now!
126 used today
From £30pp For Hotel Only Deals at TUI
Book into the hotel that suits you perfectly, with deals from only £30 per person, how can you say no with TUI!
279 used this week
Popular TUI Discount Codes
| Voucher Code Description | Discount Type | Expiry Date |
| --- | --- | --- |
| Save £20 on Return Flight Bookings at TUI | Online Code | 22 September |
| Get £150 Off All River Cruise Bookings at TUI | Online Code | 24 September |
| Save £150 on Marella Cruises at TUI | Online Code | 30 September |
| £50 Retail Card with Upfront Bookings Over £1000 at TUI | Exclusive Online Reward | 29 October |
| Discover up to 11% Online Booking Discount at TUI | Online Deal | 26 September |
| Save £300 Per Booking on Universal Orlando Holidays at TUI | Online Deal | 7 October |