VIEW LIVE OFFERS
Exclusive
£50 Retail Card with Upfront Bookings Over £1000 at TUI
Find £100 Off All Inclusive Bookings at TUI
Your flights, accommodation, transfers, food and drink will all be taken care of with an inclusive booking with TUI
495 used today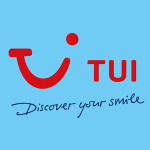 Never miss out on exclusive savings from vouchercloud
Discover £250 Off Tour Bookings at TUI
Make a massive saving on you next tour booking with TUI, discover £250 off!
420 used today
Get all Inclusive Deals From £260pp at TUI
Don't miss out on getting this great deal when booking with TUI!
189 used today
Save up to £700 Per Couple on Mediterranean Gems Itinerary at TUI
Treat yourself when booking on Mediterranean Gems Itinerary with TUI!
306 used this week
Up to 50% Off Last Minute Holiday Bookings at TUI - Quick Getaway Must Have
Need to getaway? Discover TUIS last minute breaks, now for less!
333 used today
Discover £400 Off Per Couple on Hotel Bookings at TUI
With TUI your sure to find the best deals at the best prices!
255 used today
Free Kids Places on Selected Summer Holidays at TUI
Take the kids away for free this summer with TUI.
216 used this week
Similar offers you might like
Popular TUI Discount Codes
| Voucher Code Description | Discount Type | Expiry Date |
| --- | --- | --- |
| £50 Retail Card with Upfront Bookings Over £1000 at TUI | Exclusive Online Reward | 30 July |
| Find £100 Off All Inclusive Bookings at TUI | Online Deal | 4 August |
| Discover £250 Off Tour Bookings at TUI | Online Deal | 21 July |
| Get all Inclusive Deals From £260pp at TUI | Online Deal | 23 July |
| Save up to £700 Per Couple on Mediterranean Gems Itinerary at TUI | Online Deal | 23 July |
| Up to 50% Off Last Minute Holiday Bookings at TUI - Quick Getaway Must Have | Online Deal | 27 July |