VIEW LIVE OFFERS
Exclusive
10% Off Airport Hotel Bookings at Travelodge
Up to 30% Off Advance Bookings at Travelodge
The early bird gets the deal at Travelodge! Book in advance and save up to 30%.
495 used today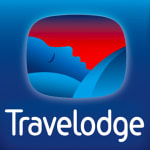 Never miss out on exclusive savings from vouchercloud
5% Student Discount at Travelodge
Don't miss out on this great discount when you book at Travelodge!
159 used today
5% Off Bookings with Newsletter Sign-ups at Travelodge
Sign-up for the Travelodge Newsletter to bag a handy 5% off your next booking!
180 used today
Central London Bookings from £35 at Travelodge
Booking a London city break doesn't have to be expensive! Book your trip through Travelodge from £35.
51 used today
Travelodge Plus Rooms from £50 in Selected Locations at Travelodge
Great value plus added style and comfort for less, book your Travelodge Plus stay today.
282 used this week
Birmingham Stays from £31 at Travelodge
Why pay more when you don't have to? Kick-start your Birmingham trip with a Travelodge booking from £31.
156 used this week
Newcastle Bookings from £29 at Travelodge
You won't believe your eyes with prices from £29 to stay in a Newcastle Travelodge.
81 used this week
Manchester Bookings from £29 at Travelodge
Enjoy a night away in Manchester from just £29 at Travelodge. A perfect place to rest from exploring the city.
135 used this week
Unlimited Breakfast from £8.50 Plus Kids Eat Free at Travelodge
Make your stay a great one with unlimited breakfast with your booking at Travelodge.
201 used this week
Popular Travelodge Discount Codes
| Voucher Code Description | Discount Type | Expiry Date |
| --- | --- | --- |
| 10% Off Airport Hotel Bookings at Travelodge | Exclusive Online Code | 31 July |
| 5% Student Discount at Travelodge | Online Code | 1 October |
| Up to 30% Off Advance Bookings at Travelodge | Online Deal | 2 August |
| 5% Off Bookings with Newsletter Sign-ups at Travelodge | Online Deal | 1 September |
| Central London Bookings from £35 at Travelodge | Online Deal | 4 August |
| Travelodge Plus Rooms from £50 in Selected Locations at Travelodge | Online Deal | 31 August |