VIEW LIVE OFFERS
Exclusive
£15 Gift Card with 12 Month SIM Only Contract Orders at Vodafone
Exclusive
£30 Gift Card with Pay Monthly Contract Orders Between £20-£49.99 at Vodafone
Get your Pay monthly contract from Vodafone and get a £30 gift card!
93 used today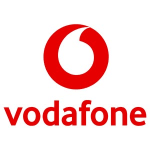 Never miss out on exclusive savings from vouchercloud
Exclusive
£40 Gift Card with Home Broadband Orders at Vodafone
Get your home broadband with Vodafone today and get a £40 gift card of your choice!
237 used this week
Top Pay Monthly Deals from Only £19 with £0 Upfront Costs at Vodafone
Why pay more? Discover amazing offers from Vodafone.
174 used this week
Exclusive
£60 Gift Card with Pay Monthly Contract Orders Over £50 at Vodafone
Looking for a new phone? Get a £60 gift of your choice with pay monthly contract orders at Vodafone!
132 used this week
iPad Mini (2019) from only £26 per month with £100 Upfront at Vodafone
Enjoy a new iPad Mini for only £26 per month with 5GB of data for only £100 upfront cost at Vodafone.
Online
Up to £100 Off Nearly New Phones at Vodafone - Including iPhone 8 & iPhone XS
They're almost like new, they're just out of the box! Check out our Nearly New phones right now at Vodaphone.
90 used this week
Unlimited Texts, Calls & 8GB of Data from £22 per Month at Vodafone
Find the plan that's right for you with our SIM only deals at Vodafone.
Online
£5 Off a month on all plans for Existing Pay Monthly Customers at Vodafone
If you're already an existing customer you can save £5 off a month on your plan.
87 used today
10% Student Discount Off Selected Plans at Vodaphone
To make things easier for your studying, make the most of this incredible student offer from Vodafone!
174 used this week
Popular Vodafone Discount Codes
| Voucher Code Description | Discount Type | Expiry Date |
| --- | --- | --- |
| £15 Gift Card with 12 Month SIM Only Contract Orders at Vodafone | Exclusive Online Reward | 31 July |
| £30 Gift Card with Pay Monthly Contract Orders Between £20-£49.99 at Vodafone | Exclusive Online Reward | 31 July |
| £40 Gift Card with Home Broadband Orders at Vodafone | Exclusive Online Reward | 31 July |
| £60 Gift Card with Pay Monthly Contract Orders Over £50 at Vodafone | Exclusive Online Reward | 31 July |
| Top Pay Monthly Deals from Only £19 with £0 Upfront Costs at Vodafone | Online Deal | 20 August |
| iPad Mini (2019) from only £26 per month with £100 Upfront at Vodafone | Online Deal | 29 August |