VIEW LIVE OFFERS
Exclusive
£60 Gift Card with Pay Monthly Contract Orders Over £50 at Vodafone
Exclusive
£65 Gift Card with New iPhone 11 Contract Orders at Vodafone
Get your iPhone 11 at Vodafone and bag yourself a £65 gift card with contract orders!
78 used today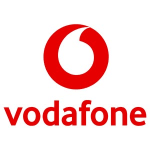 Never miss out on exclusive savings from vouchercloud
Exclusive
£45 Gift Card with Pay Monthly Contract Orders Between £20-£49.99 at Vodafone
Don't miss out on this limited-time offer and get a £45 gift card of your choice with pay monthly contract orders today.
462 used this week
Exclusive
£45 Gift Card with Home Broadband Orders at Vodafone
If you're in need of a new broadband provider then Vodafone is the place to go. Order your home broadband package today and get a £45 gift card!
231 used this week
Exclusive
£15 Gift Card with 12 Month SIM Only Contract Orders at Vodafone
With this unmissable reward offer, you can get a £15 gift card with 12 month SIM only contracts!
159 used this week
15% Off Additional Plan Orders at Vodafone
Enjoy a 15% discount on selected additional phones, SIM only and tablet plans.
75 used today
Up to £10 Off Selected Pay as You Go Phone Orders at Vodafone
Save some cash by choosing pay as you go at Vodafone.
198 used this week
Free 3GB of Data with Selected Pay Monthly Orders at Vodafone
Get 4GB for the price of one on selected pay monthly contracts!
120 used this week
Unlimited Data Plans from £23 per Month at Vodafone
No need to worry about your data allowance or your bank balance at Vodafone.
75 used this week
Free Next Day Delivery on Orders at Vodafone
Order by 10pm and get your phone the next day and for no extra cost!
84 used this week
SIM Only Deals from £11 per Month at Vodafone
Find the perfect plan to suit you at Vodafone!
69 used this week
Superfast Broadband from £23 per month at Vodafone
Get super-fast speeds for a super low price!
78 used this week
Popular Vodafone Discount Codes
| Voucher Code Description | Discount Type | Expiry Date |
| --- | --- | --- |
| £60 Gift Card with Pay Monthly Contract Orders Over £50 at Vodafone | Exclusive Online Reward | 23 September |
| £65 Gift Card with New iPhone 11 Contract Orders at Vodafone | Exclusive Online Reward | 23 September |
| £45 Gift Card with Pay Monthly Contract Orders Between £20-£49.99 at Vodafone | Exclusive Online Reward | 23 September |
| £45 Gift Card with Home Broadband Orders at Vodafone | Exclusive Online Reward | 23 September |
| £15 Gift Card with 12 Month SIM Only Contract Orders at Vodafone | Exclusive Online Reward | 23 September |
| 15% Off Additional Plan Orders at Vodafone | Online Deal | 31 October |