Remember the days when being seen in denim on denim was viewed as the ultimate fashion crime? Or when wearing a denim jacket, accessoried with pink lipgloss and a scrunchie, was the height of fashion? Despite these fashion lows (or highs!) still our love affair with denim remains. Dating back over two centuries, durable denim is one of those trends that crops up season after season.
The past few years we have seen many of our favourite old school denim trends hitting the high street; restyled with a modern twist. These contemporary makeovers are managing to keep our wardrobes fresh and up to date whilst offering practical items for us to wear day to day.
As we all know – denim doesn't stop at jeans. We're certainly more than happy to get involved with current trends including dresses, jackets – even jumpsuits. Below we take a look at the denim trends that made a hit (some of which you may remember) and look at their current contemporary counterparts.
---
The Double Denim Trend
From Brit and Justin to Irish girlband Bewitched, the 90s was awash with strong denim looks. And what says 90s more than a denim head-to-toe? Double denim you may think of as a quite daunting or offensive look, and looking at some of the double denim outfits that have happened over time, this is completely understandable.
As you can see Elvis can clearly rock this look, and one thing Elvis knew was that you need to wear different shade combos when thinking full on denim. Too 'matchy matchy' will teeter you into retro reject territory – so for a more relaxed daytime look, like these celebrities below, try a lighter denim shirt with darker jean on the bottom.
---
The Denim Jacket Trend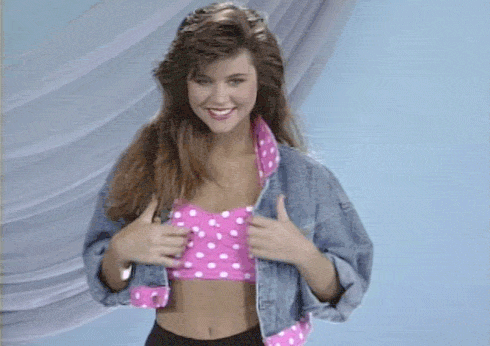 Next we have a staple denim item that never really died out; the denim jacket. During the 80s and 90s wearing a volumous denim number was all the rage. Truly the bigger the better is seems.
In recent times we have seen a sleeker, fitted jacket take its place. This versatile jacket can take you from day to evening, making up part of a casual or smart casual outfit. Style the contemporary denim jacket by teaming with a dress and rolling up the sleeves like these celebs below.
---
The Dungarees Trend
As much as we love you TLC ladies, the bright colour combo dungs and ill fitting t-shirts accented with bandannas is just a combo that we hope to never see again.
However, thanks to the likes of the hipster set of Alexa Chung, Jameela Jamil et al, this comfortable trend has made a strong comeback. These fashionistas have taken this from art student to shoreditch chic quicker than you can say venti decaff soy flat white.
The modern and updated version of the dungaree is more fitted and streamlined. If short, pair with some tanned pins and some great ankle boots. If long, roll up the bottoms and get your ankles on show, for a truly modern look. Team, like Lott, with a polo neck on colder winter days or do a Chung and wear a cream shirt underneath (a personal fave combo for us!).
---
 The Denim Pinafore Dress Trend
Again Chung has a lot to answer for when it comes to bringing back schoolgirl chic. The classic pinafore dress that we remember from school gets transformed, with a cool denim twist, and we LOVE it!
From apron style dresses to cool retro pinafore dresses, this trend is one that is really wearable, on a day to day basis. Wear with a long sleeved shirt, a t-shirt or on its own in the summer. Such a versatile piece to add to you wardrobe.
---
Every wardrobe could do with a denim staple or two. Luckily you can pick up some of the most iconic items over at the king of denim that is Levis, or why not have a browse of  an ASOS discount code or some New Look offers, which can also help you shop a great selection of up-to-date denim for less.